300 ZJ Large Metal Slurry Pump
Performance List
Type

Speed

(r/min)

Capacity

(m3/h)

Head

(m)

Power of shaft

(kW)

Eff.

(%)

NPSHr

(m)

Motor

300ZJ-I-A56

980

789

48

149.5

69

5.5

Y355M2-6 185kW/380V

1415

40.8

195.6

80.4

Y355-6 250kW/6kV

1568

38.5

202.2

81.3

Y355-6 250kW/6kV

300ZJ-I-A56

730

588

26.6

61.7

69

3.5

Y315M2-8 90kW/380V

1054

22.6

80.7

80.4

Y315M3-8 110kW/380V

1168

21.4

81.3

81.3

Y315M3-8 110kW/380V

300ZJ-I-A65

980

1177

66.2

294.7

72

6

Y400-6 355kW/6kV

1966

57.5

384.8

80

Y450-6 500kW/6kV

2166

55.2

405

80.4

Y450-6 500kW/6kV

300ZJ-I-A65

730

877

36.7

121.7

72

3.5

Y355M2-8 160kW/380V

1465

31.9

159.1

80

Y355L2-8 200kW/380V

1614

30.6

167.3

80.4

Y355L2-8 200kW/380V

300ZJ-I-A70

980

1268

76.8

368.3

72

6

Y450-6 450kw/6kW

2118

66.7

480.9

80

Y450-6 630kW/6kV

2333

64

505.8

80.4

Y450-6 630kW/6kV

300ZJ-I-A70

730

945

42.6

152.3

72

3.5

Y355l1-8 185kW/380V

1578

37

198.8

80

Y400-8 250kW/6kV

1738

35.5

209

80.4

Y400-8 250kW/6kV

300ZJ-I-A85

730

871

69.6

243.9

67.7

4.8

Y450-8 315kW/6kV

1556

65.7

345.8

80.5

Y450-8 450kW/6kV

1742

63.6

367.9

82

Y450-8 450kW/6kV

300ZJ-I-A85

590

704

45.5

128.9

67.7

3.9

Y355L2-10 160kw/380V

1258

42.9

182.6

80.5

Y450-10 220kW/6kV

1408

41.6

194.5

82

Y450-10 250kW/6kV

300ZJ-I-A90

730

922

78

289.3

67.7

4.8

Y450-8 355kW/6kV

1648

73.7

410.9

80.5

Y500-8 500kW/6kV

1844

71.3

436.7

82

Y500-8 560kW/6kV

300ZJ-I-A90

590

745

51

152.8

67.7

3.9

Y450-10 220kW/6kV

1332

48

216.7

80.5

Y450-10 280kW/6kW

1490

46.6

230.6

82

Y450-10 280kW/6kW

300ZJ-I-A95

590

868

60.6

204.6

70

4.1

Y455-10 250kW/6kV

1696

53.9

309.6

80.4

Y500-10 400kW/6kV

1735

53.5

312.1

81

Y500-10 400kW/6kV

300ZJ-I-A95

490

721

41.8

117.2

70

3

Y450-12 220kW/6kV

1409

37.2

177.5

80.4

Y450-12 220kW/6kV

1441

36.9

178.8

81

Y450-12 220kW/6kV

300ZJ-I-A100

590

913

67.1

238.3

70

4.1

Y450-10 280kW/6kW

1785

59.7

361

80.4

Y500-10 450kW/6kV

1826

59.2

363.4

81

Y500-10 450kW/6kV

300ZJ-I-A100

490

758

46.3

136.5

70

3

Y450-12 220kW/6kV

1483

41.2

207

80.4

Y450-12 220kW/6kV

1517

40.8

208.1

81

Y450-12 250kW/6kV

300ZJ-I-A110

590

1100

78

343.6

68

5

Y500-10 400kW/6kV

1500

74.5

434.8

70

Y500-10 500kW/6kV

1700

72

469.5

71

Y500-10 560kW/6kV

300ZJ-I-A110

490

914

53.8

196.9

68

3.8

Y450-12 250kW/6kV

1246

51.4

249.2

70

Y500-12 315kW/6kV

1412

49.7

269.2

71

Y500-12 315kW/6kV
Product Profile
300 ZJ slurry pump is the largest of ZJ series Mine Slurry Pumps. It has horizontal single-stage, single-suction and double case Centrifugal Slurry Pump. It has good cavitation performance, high flow rate, high head and high efficiency.Adopting solid-liquid two-phase flow velocity ratio, ZJ series slurry pump can convert the energy between sold and liquid sufficiently in the pump casting; also improves erosion of the flowing parts. With advanced water-power design, reasonable structure and highly corrosion- resistant materials, The pumps have high-efficiency, good-cavitation-capability, long-lifespan, work-reliable advantages, etc. For this pump, there are different impeller designs, from small to big in physical sizes.ZJ pumps could be used as multi-stage pumps in series. It is compact and light for easy installation and maintenance. It is mainly used for handling mixtures containing abrasive and corrosive solids.
Construction description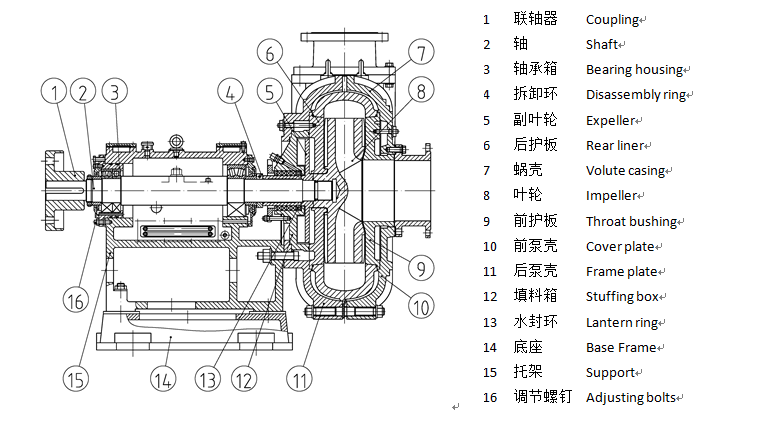 Outline drawing
Looking for ideal High Head Mine Slurry Pumps Manufacturer & supplier ? We have a wide selection at great prices to help you get creative. All the High Efficiency
Mine Pumps
are quality guaranteed. We are China Origin Factory of Large
Mine Slurry Pump
. If you have any question, please feel free to contact us.
Product Categories : Mine Pumps > ZJ Series Flotation Machine Feeding Pump