200 ZJ Slurry Pump
Performance List
Type

Speed

(r/min)

Capacity

(m3/h)

Head

(m)

Power of shaft

(kW)

Eff.

(%)

NPSHr

(m)

Motor

200ZJ-I-A58

980

421

59.8

102

67.2

4.1

Y315M3-6 132kW/380V

735

55.1

137.5

80.2

Y355M1-6 160kW/380V

841

52.6

148

81.4

Y355M2-6 185kW/380V

200ZJ-I-A58

730

314

33.2

42.2

67.2

2.6

Y315S-8 55kW/380V

546

30.6

56.7

80.2

Y315M1-8 75kW/380V

628

29.2

61.4

81.4

Y315M1-8 75kW/380V

200ZJ-I-A60

980

435

64

112.8

67.2

4.1

Y315M3-6 132kW/380V

760

59

152.3

80.2

Y355M2-6 185kW/380V

870

56.3

163.9

81.4

Y355M3-6 200kW/380V

200ZJ-I-A60

730

325

35.5

46.8

67.2

2.6

Y315M1-8 75kW/380V

565

32.7

62.7

80.2

Y315M2-8 90kW/380V

650

31.2

67.8

81.4

Y315M2-8 90kW/380V

200ZJ-I-A63

980

456

69.5

128.8

67

4.3

Y355M1-6 160kW/380V

795

64

180

77

Y355-6 220kW/6kV

921

62

196.1

79.3

Y355-6 250kW/6kV

200ZJ-I-A63

730

339

38.5

53

67

2.6

Y315M1-8 75kW/380V

591

35.5

74.2

77

Y315M3-8 110kW/380V

683

34.4

80.7

79.3

Y315M3-8 110kW/380V

200ZJ-I-A65

980

470

74

141.4

67

4.3

Y355M2-6 185kW/380V

820

68.1

197.5

77

Y355-6 250kW/6kV

950

66

215.3

79.3

Y355-6 250kW/6kV

200ZJ-I-A65

730

350

41

58.3

67

2.6

Y315M1-8 75kW/380V

610

37.8

81.6

77

Y315M3-8 110kW/380V

705

36.6

88.6

79.3

Y315M3-8 110kW/380V

200ZJ-I-A68

980

457

81

154.6

65.2

4.4

Y355M2-6 185kW/380V

797

74

217.3

74.6

Y355-6 250kW/6kV

923

72.2

234.2

77.5

Y400-6 280kW/6kV

200ZJ-I-A68

730

340

44.9

63.8

65.2

2.8

Y315M2-8 90kW/380V

593

41.3

89.4

74.6

Y315M3-8 110kW/380V

685

40.1

96.5

77.5

Y355M1-8 132kW/380V

200ZJ-I-A70

980

470

85.8

168.4

65.2

4.4

Y355M3-6 200kW/380V

820

79

236.5

74.6

Y400-6 280kW/6kV

950

76.5

255.4

77.5

Y400-6 315kW/6kV

200ZJ-I-A70

730

350

47.6

69.6

65.2

2.8

Y315M2-8 90kW/380V

610

43.8

97.5

74.6

Y355M1-8 132kW/380V

705

42.5

105.3

77.5

Y355M1-8 132kW/380V

200ZJ-I-A73

980

438

98.2

192

61

4.5

Y355-6 250kW/6kV

730

90.7

250.4

72

Y400-6 315kW/6kV

876

87.2

279.2

74.5

Y400-6 355kW/6kV

200ZJ-I-A73

730

326

54.5

79.3

61

2.8

Y315M3-8 110kW/380V

545

50.3

103.7

72

Y355M1-8 132kW/380V

652

48.4

115.4

74.5

Y355M2-8 160kW/380V

200ZJ-I-A75

980

450

103.7

208.3

61

4.5

Y355-6 250kW/6kV

750

95.7

271.5

72

Y400-6 355kW/6kV

900

92

302.7

74.5

Y400-6 355kW/6kV

200ZJ-I-A75

730

335

57.5

86

61

2.8

Y315M3-8 110kW/380V

560

53.1

112.5

72

Y355M1-8 132kW/380V

670

51.1

125.2

74.5

Y355M2-8 160kW/380V
Product Profile
200 ZJ series Mine Slurry Pump is a horizontal single-stage, single-suction and double case Centrifugal Slurry Pump. Adopting solid-liquid two-phase flow velocity ratio, 200ZJ slurry pump can convert the energy between sold and liquid sufficiently in the pump casting; also improves erosion of the flowing parts. With advanced water-power design, reasonable structure and highly corrosion- resistant materials.These pumps have high-efficiency, good-cavitation-capability, long-lifespan, work-reliable advantages, etc. For this pump, there are different impeller designs, from small to big in physical sizes. It is compact and light for easy installation and maintenance. The Pump is mainly used for handling mixtures containing abrasive and corrosive solids.
Construction description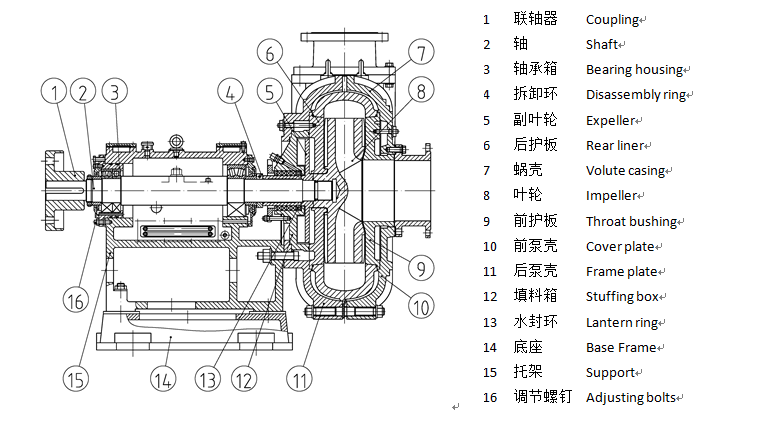 Outline drawing
Looking for ideal Centrifugal Mine
Slurry Pumps
Manufacturer & supplier ? We have a wide selection at great prices to help you get creative. All the A High Head Mine Pump are quality guaranteed. We are China Origin Factory of High Efficiency
Mining Pump
. If you have any question, please feel free to contact us.
Product Categories : Mine Pumps > ZJ Series Flotation Machine Feeding Pump